HEIMAT
Brand Design
Production
Content Curation
In cooperation with the Düsseldorf Schauspielhaus theater company, we experimented with and realized a podcast format with cross-channel and cross-media expertise and resources.
Brand Design
Production
Content Curation
Client:

HEIMAT

Project Period:

2019/2020

Link: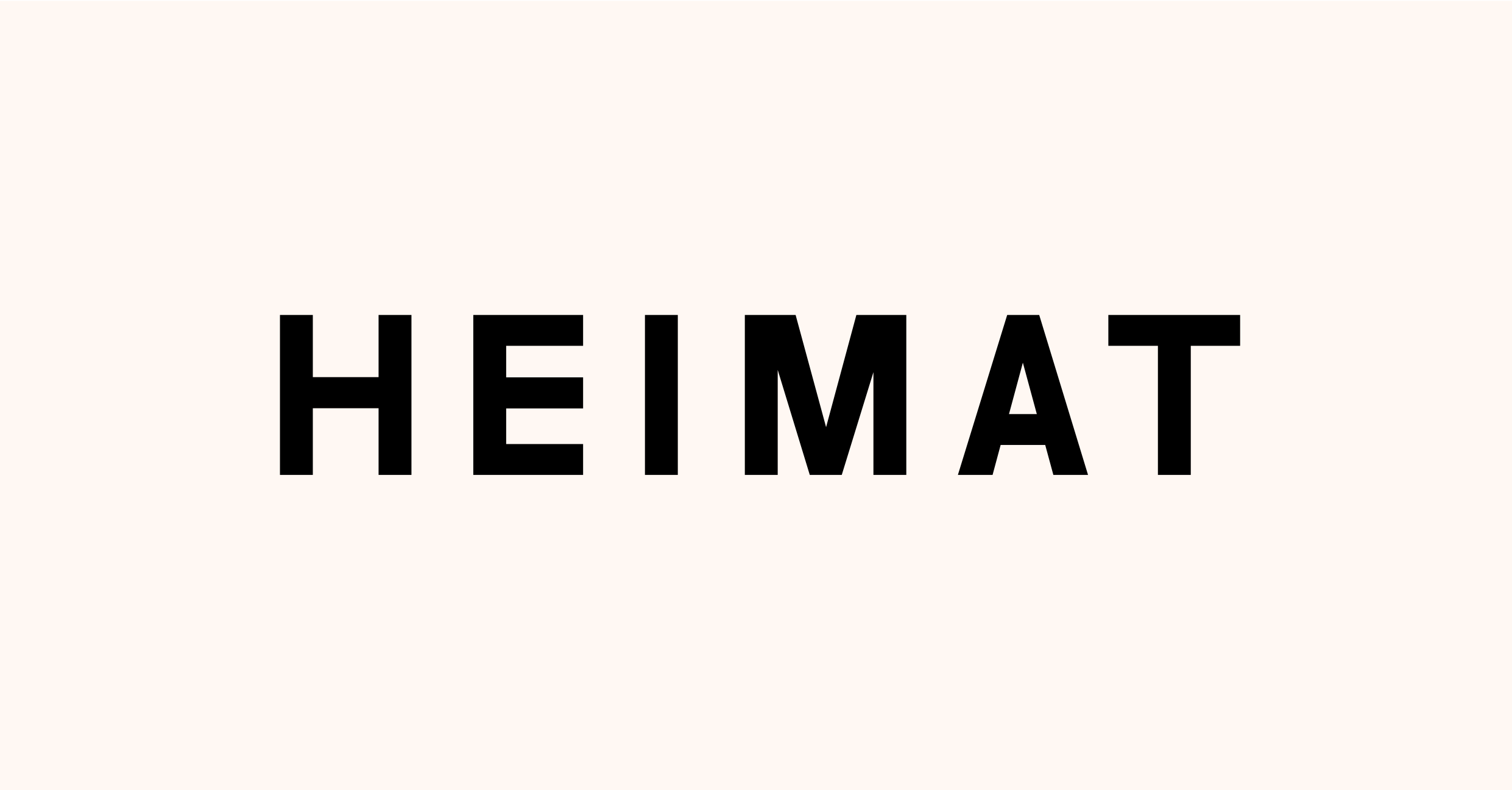 Task
How can a traditional national theater embrace new media with an innovative format?
Through long-standing connections in the cultural circles of Düsseldorf and Berlin - the home of BIG SUN and of presenter Peter Jordan - it was possible to launch this exciting collaborative project with the Düsseldorfer Schauspielhaus theater company.

The traditional national theater was keen on opening up its doors, turning the theater into a meeting place, and exploring innovative formats outside of the conventional stage and auditorium.
In collaboration with actor Peter Jordan and artistic director Anja Prinz, BIG SUN adopted the popular podcast medium, developed the "Heimat" brand, and fanned it out digitally in a holistic way.
Single source, multi-channel: How a podcast became a digital brand, distributed across multiple channels.
The podcast medium has long been a part of what we do - which is why the collaborative project with the Düsseldorfer Schauspielhaus theater company was particularly close to our hearts. Most importantly, however, it provided us with an opportunity to leverage the diverse strengths and resources at BIG SUN: from the podcast's production and overall project management to cross-media distribution.

As part of the digital branding, we developed and registered the "Heimat" brand, then subsequently engineered the corporate design as well as adapted and deployed it for all digital touchpoints - website, Instagram, podcast app UX.

"Heimat" was recorded backstage in the so-called "Unterhaus," a rehearsal stage located in the basement, and in the Düsseldorf Schauspielhaus theater company's own recording studio. Commissioned by BIG SUN, the sound specialists TRO supervised the podcast's recording and post-production, and the sonic branding was conceived by the renowned music producer Alexis Troy.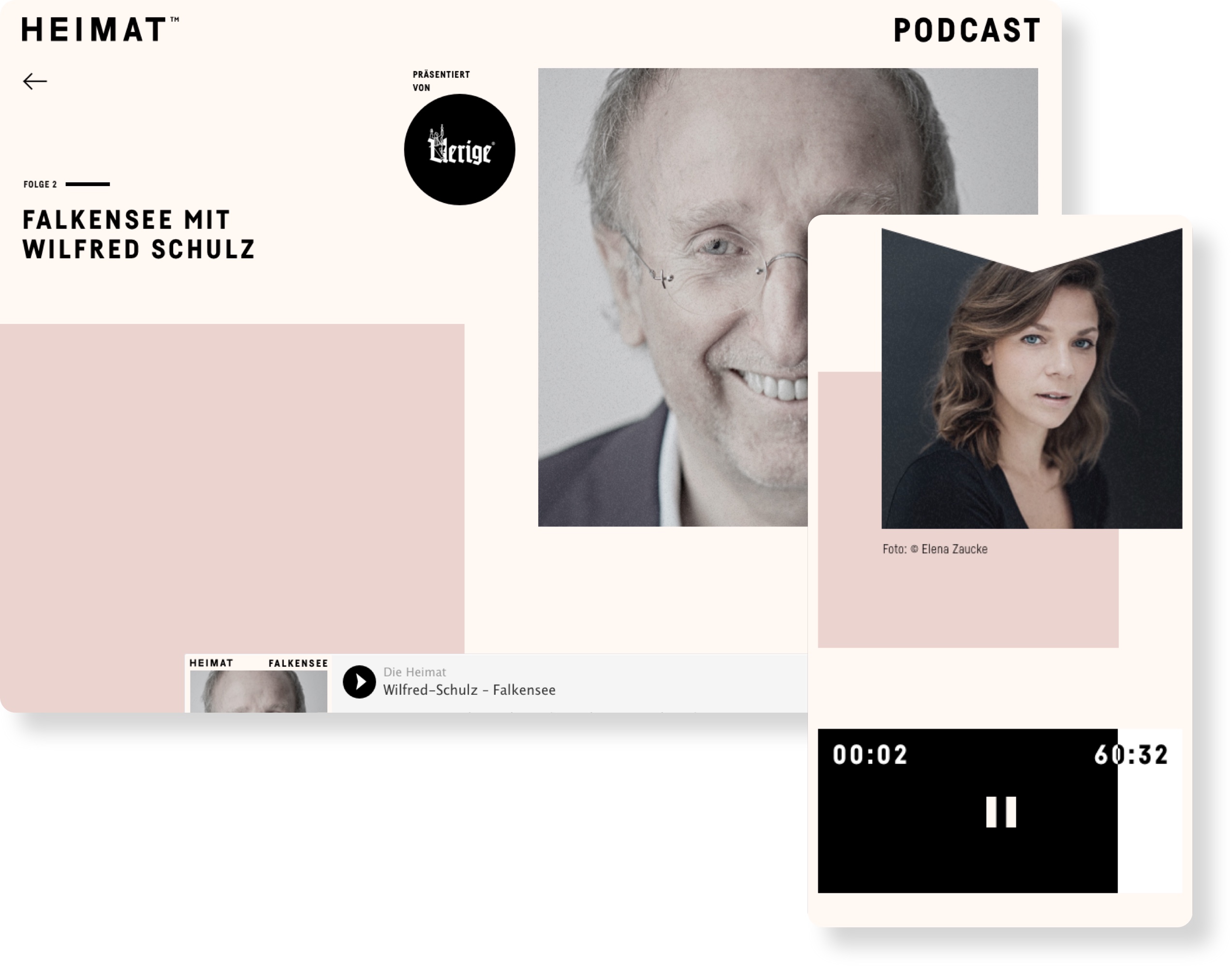 Results
he relevancy of the content and the exceptionality of the form generated national recognition and esteem.
What does the notion of "home" entail? In the "Heimat" podcast, actor Peter Jordan, who was born in Dortmund and lives in Berlin, introduces a personal, emotional, unpopulist, apolitical approach to a highly politicized topic.

In the first season of 10 episodes produced by BIG SUN, guests included Dunja Hayali, Jessica Schwarz, and Katharina Thalbach, shared exciting and touching insights into their understanding of and feelings regarding home.
Due to the relevance of its content and its formal unconventionality, the "Heimat" podcast "Heimat" was well-received nationwide: Peter Jordan was invited to the ZDF Mittagsmagazin, and two episodes were prominently featured on the iTunes homepage.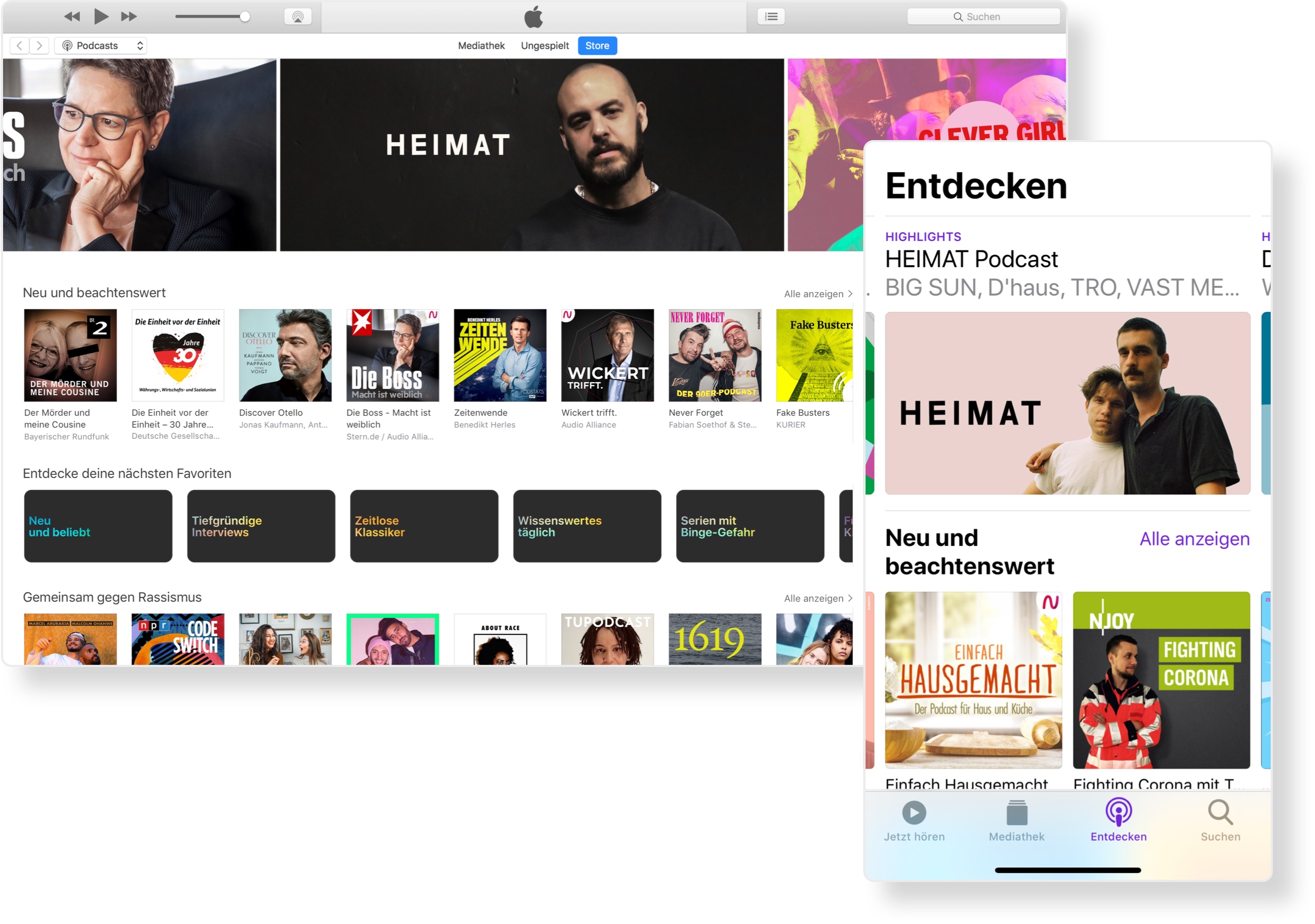 Seen enough?
So, by now you've got a pretty good idea of who we are. Now it's your turn. Let us get to know you! Come by and meet the team ― whether for a chat or a damn good cup of coffee. Or simply because it's pouring outside. Get out of the rain and into the sun. Our door is always open.