FRoSTA.de
Brand Design
UX Strategy
UX Design
Through a scalable digital design system, we assisted the frozen food manufacturer FRoSTA in compellingly overhauling its brand presence on the web, while also highlighting important brand values.
Brand Design
UX Strategy
UX Design
Client:

FRoSTA

Project Period:

2019/2020

Link: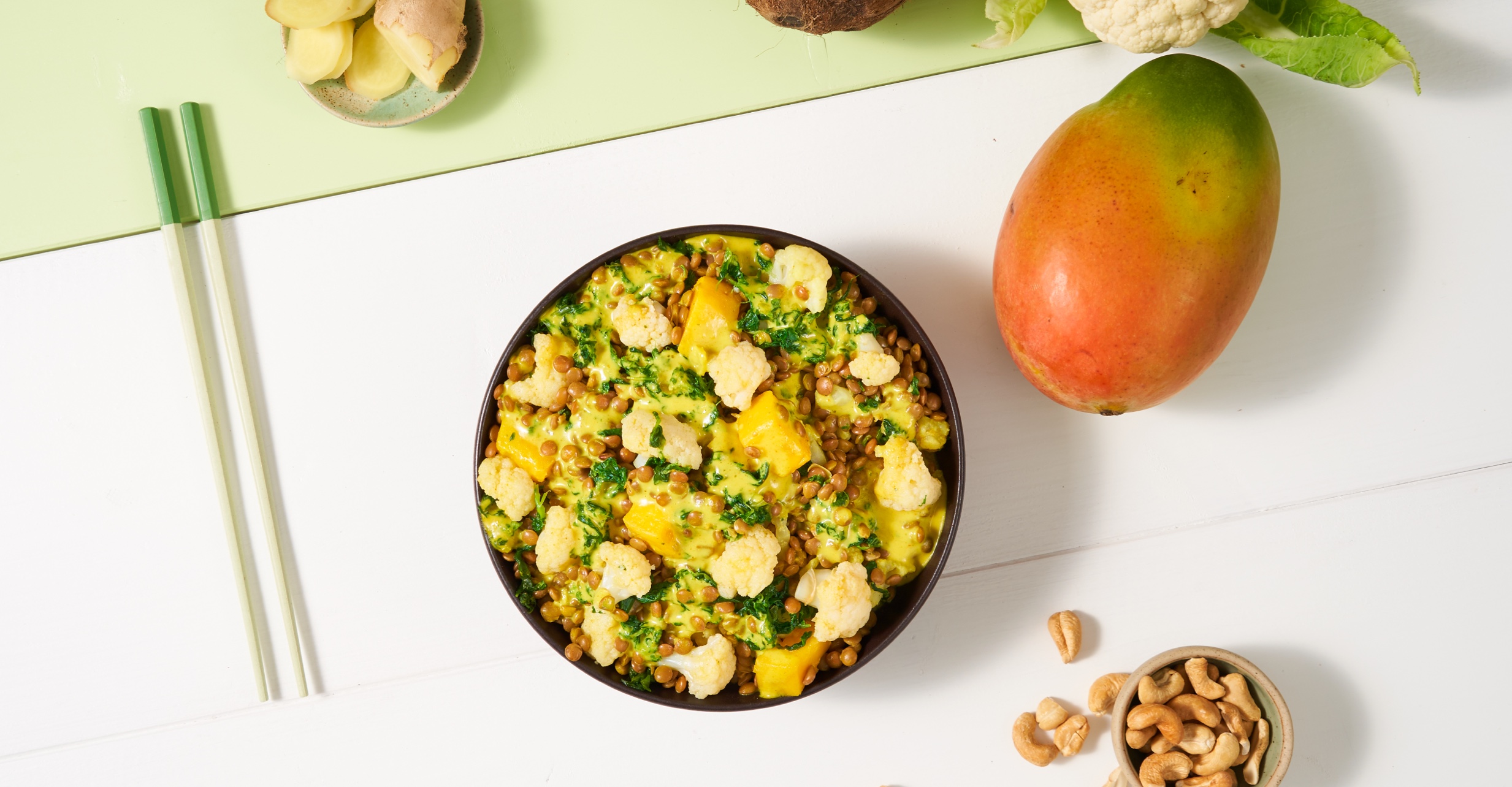 Task
How can a company's unique attributes and its eponymous brand be optimally represented in terms of communication?
Quality and sustainability are the two core values that have clearly and successfully positioned the frozen food manufacturer FRoSTA in the highly competitive food market. Drawing on the company's proprietary "FRoSTA Purity Law," all products are free of artificial coloring, flavor additives, flavor enhancers, emulsifiers, and stabilizers, as well as chemically modified starches and hydrogenated fats.
How can these distinctive features of the FRoSTA company and brand best be conveyed in a communicative way? What does this "added value" mean for a website aimed at representing and "selling" both the manufacturer and the products?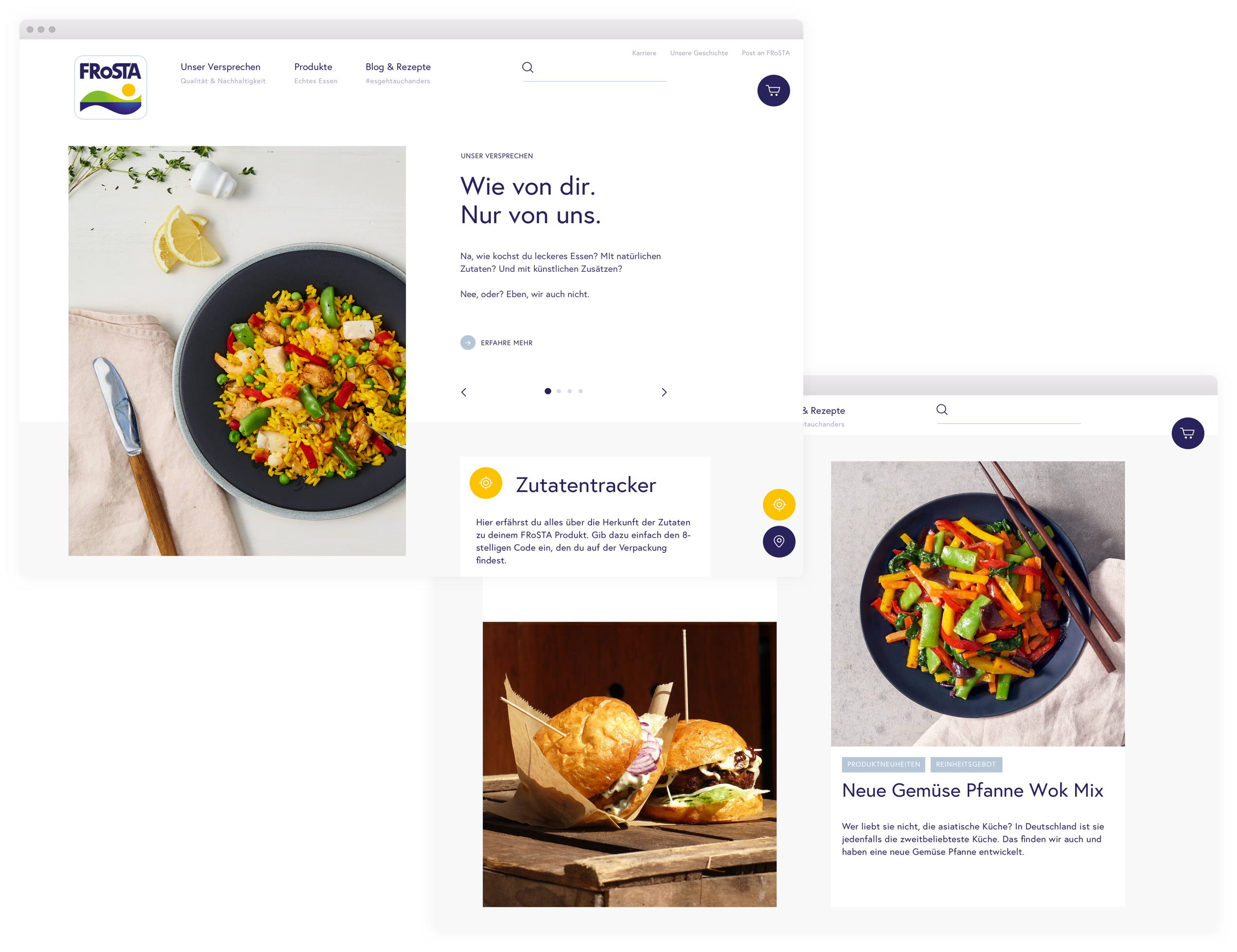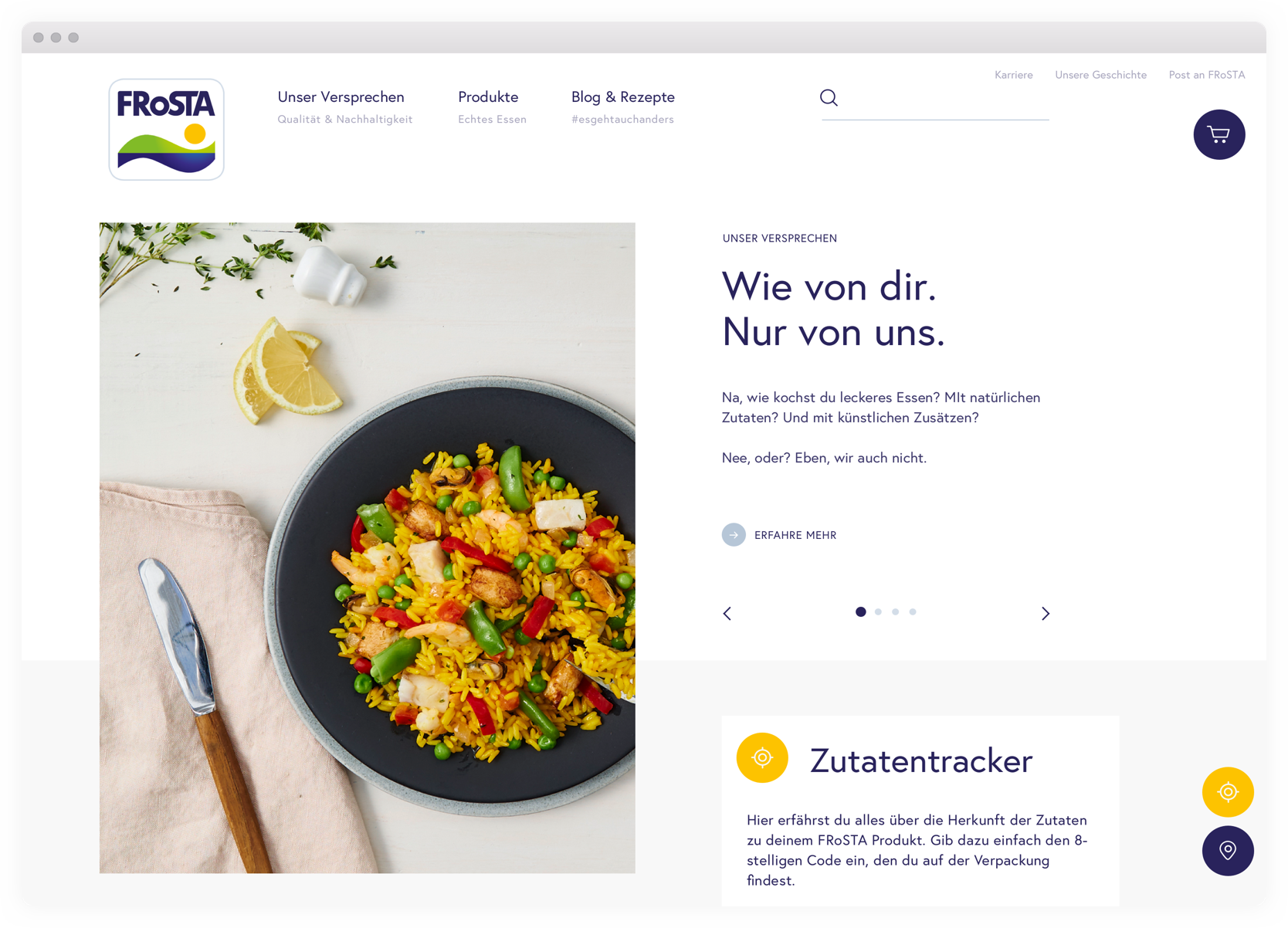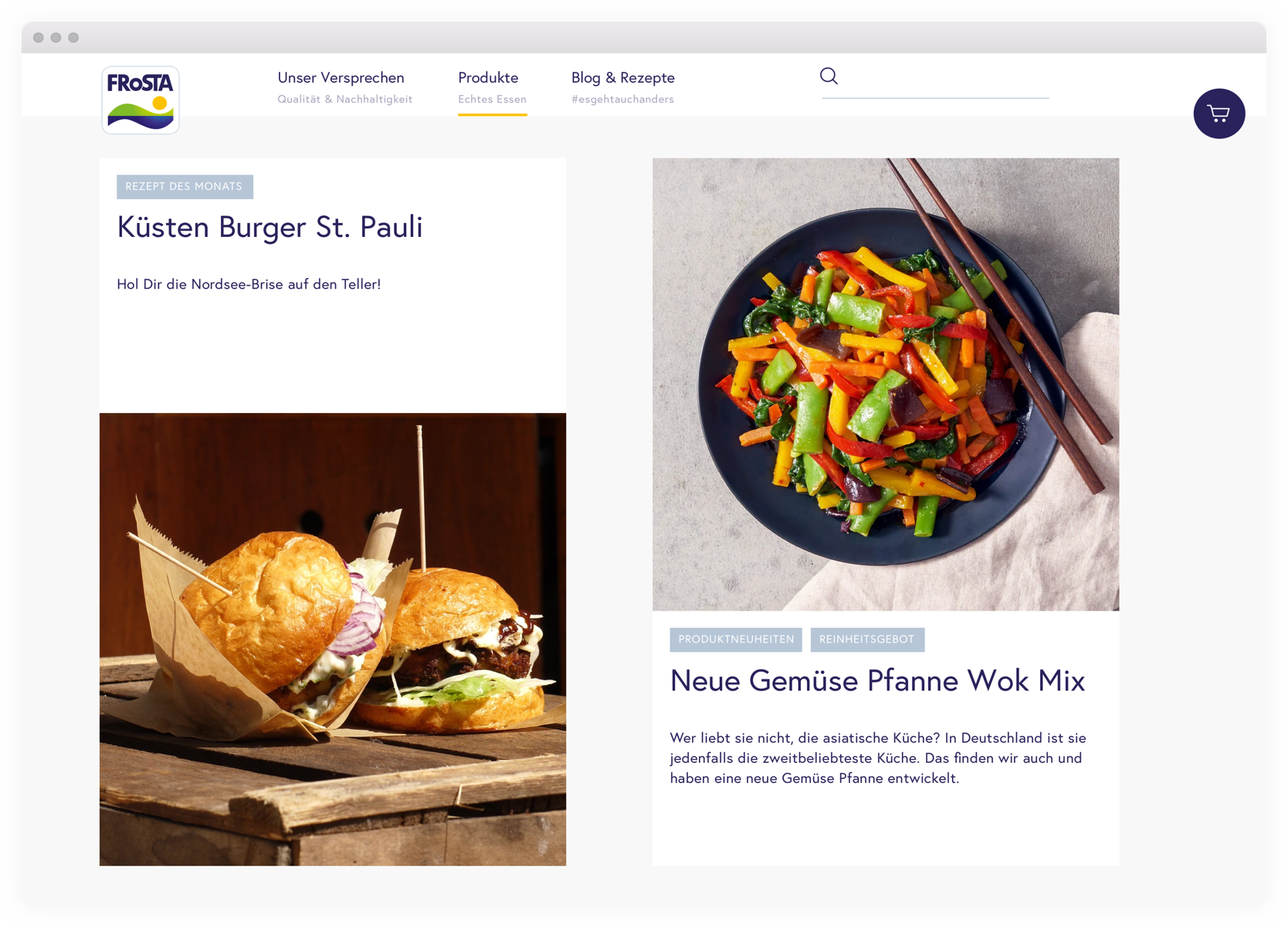 A website that serves as a brand and product platform, incorporating storytelling and clear design to reflect the brand values.
Following the clear objectives, BIG SUN developed a conceptual approach, whose fundamental principle is based on a well-known German expression and transforms FRoSTA into a "publisher", or an outlet for the company's own good news and stories. Many of which were found on the company blog – an outlet that had been actively operated since 2013 and was accordingly well maintained.

Aligned with the existing strategic positioning, the FRoSTA website is intended to serve as a brand and product platform that authentically and credibly conveys and reinforces the company's brand values. The integrated design system, based on the principles of editorial design, supports the website's narrative approach.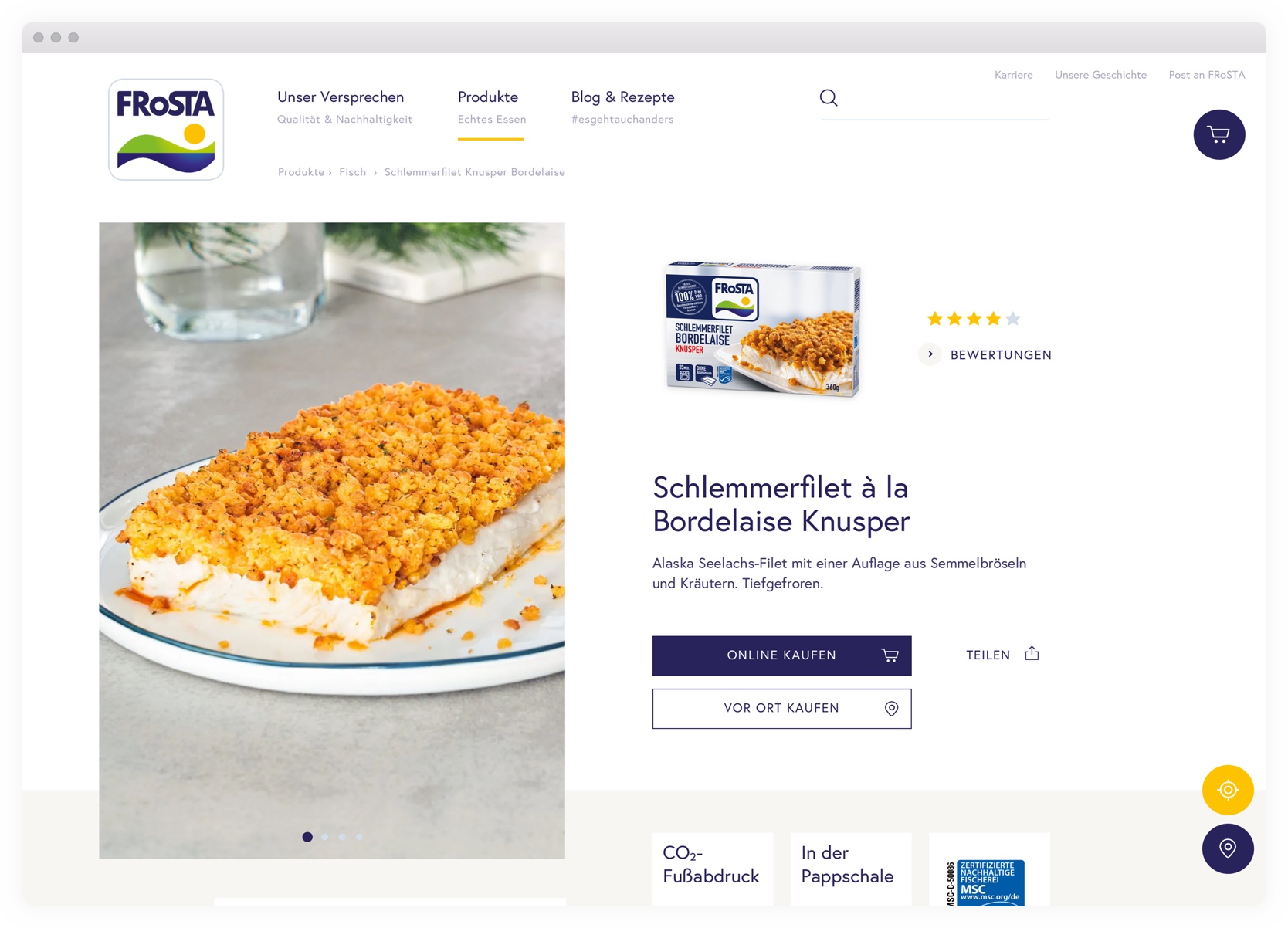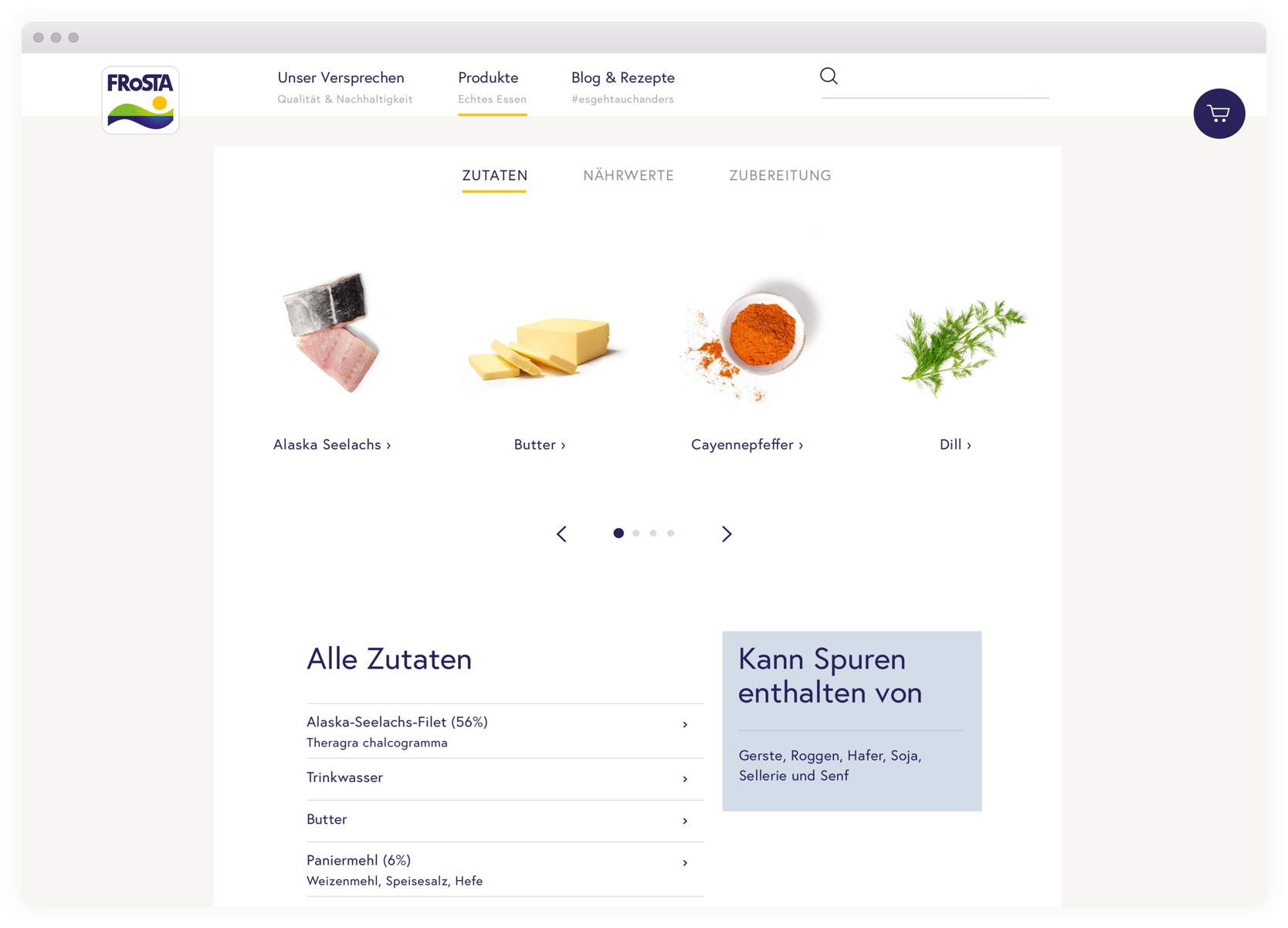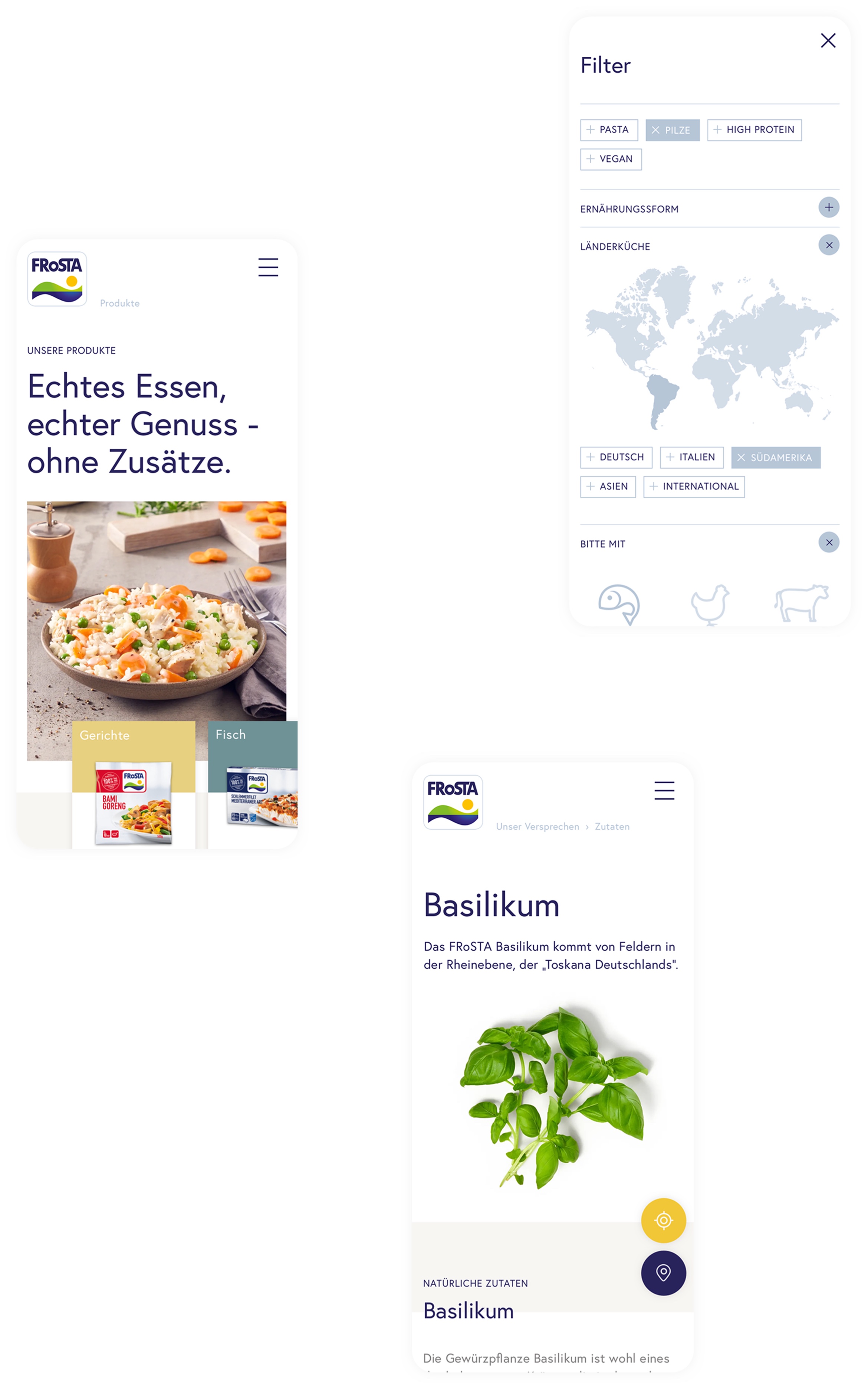 Results
How can a scalable digital design system help present existing brand content in innovative and compelling ways?
n close coordination with the overhaul of the entire brand presence, BIG SUN created a comprehensive and scalable digital design system for FRoSTA as part of the website relaunch. Using the modular building block system comprising a variety of templates, the client can build and publish nearly any new website independently via the WordPress CMS.
This magazine look, created by the editorial design system, ensures the authentic presentation of FRoSTA's brand and product content while specifically highlighting the key topic of "sustainability" and enabling the use of existing high-quality blog content.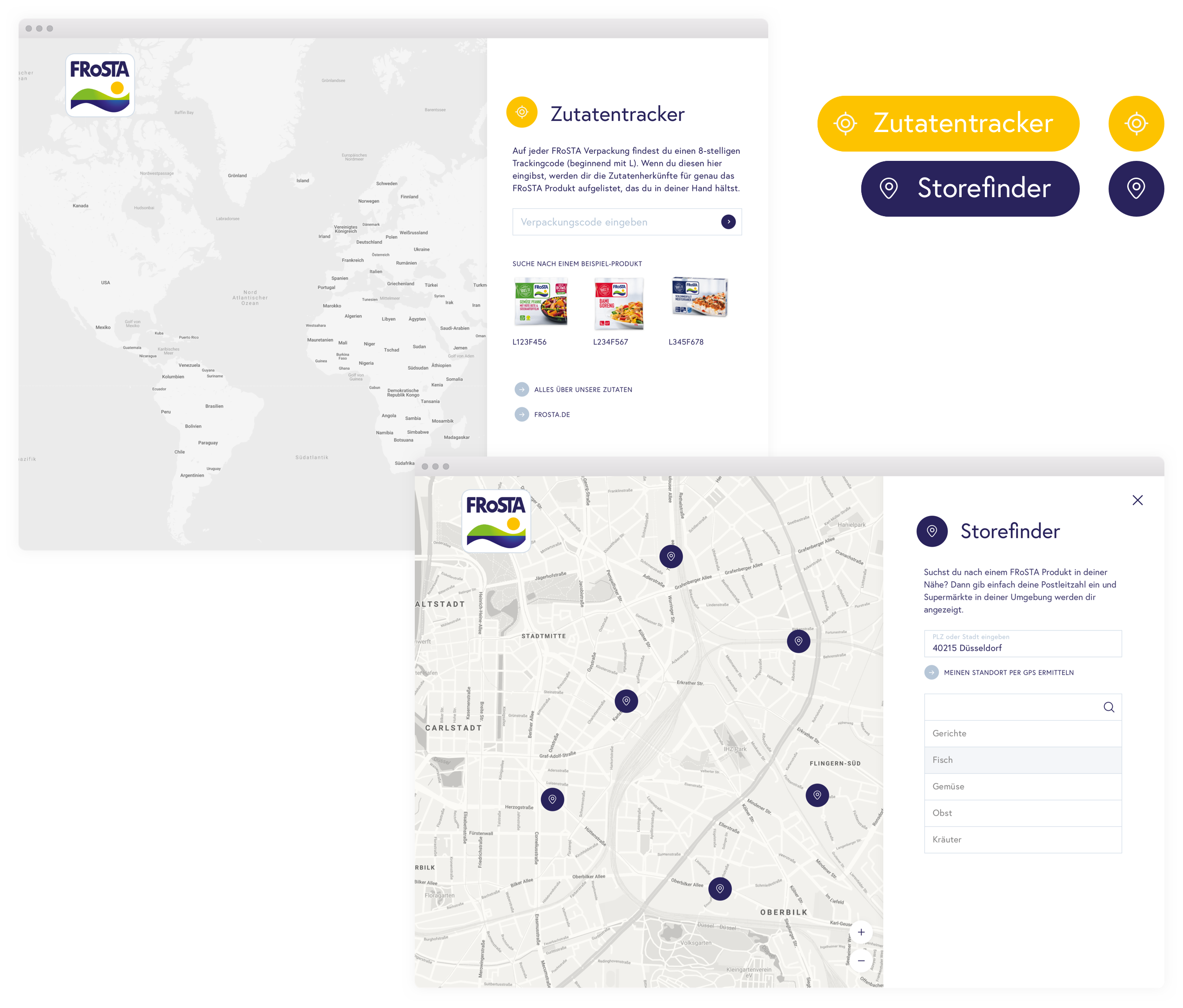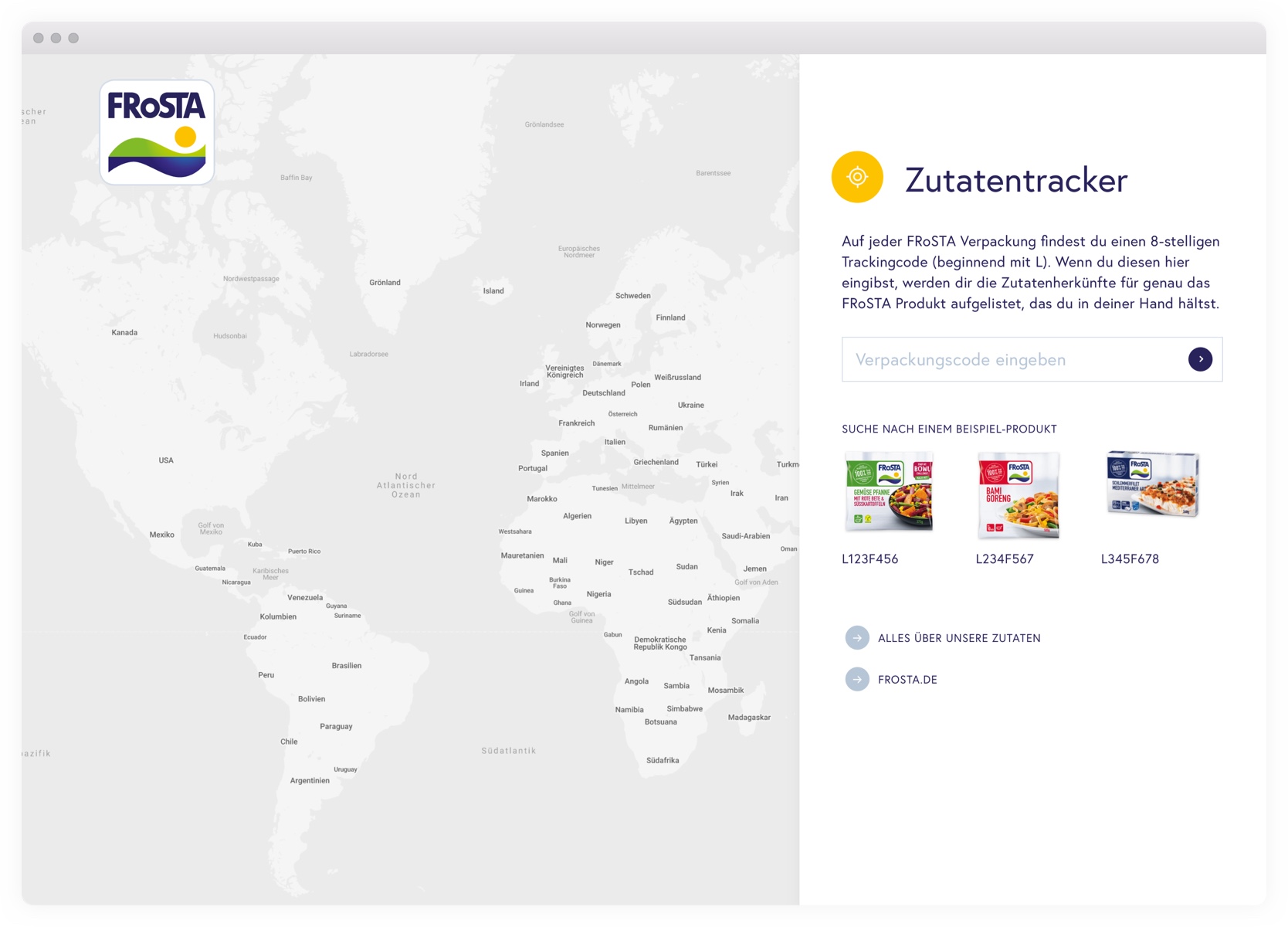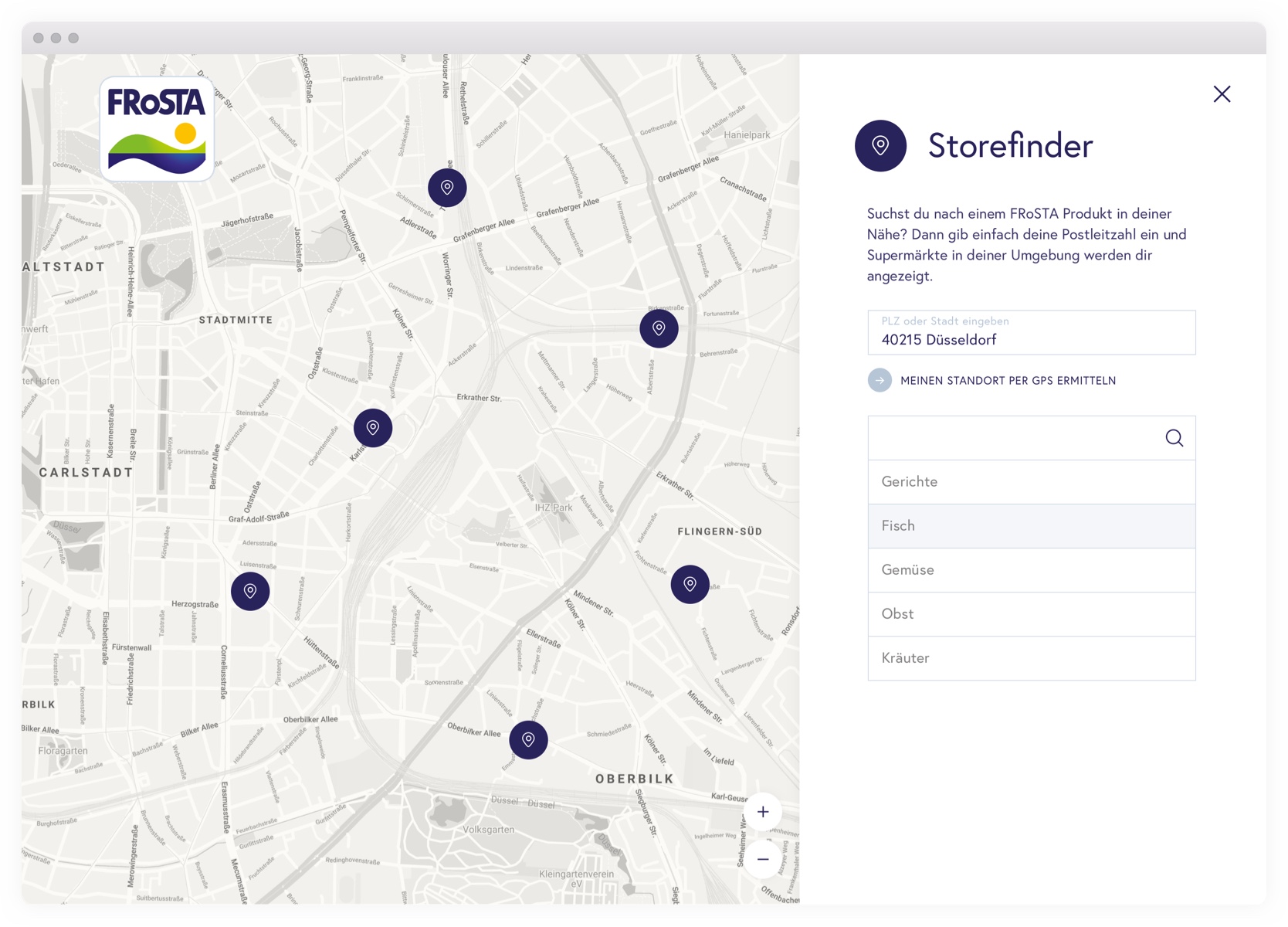 Seen enough?
So, by now you've got a pretty good idea of who we are. Now it's your turn. Let us get to know you! Come by and meet the team ― whether for a chat or a damn good cup of coffee. Or simply because it's pouring outside. Get out of the rain and into the sun. Our door is always open.